The Challenge
A required, foundation-level college course does not typically have to market itself, but in this case, administrators decided that the First-Year Seminar (FYS) program at Columbia College Chicago needed to do something about persistent misinformation surrounding the course and its purpose.
The Solution
One of many things we did to show off what was really going on in FYS was to build a social media presence. Our strategy was "show don't tell" — rather than trying to explain FYS, we built Twitter and Facebook feeds to share content about exactly the kinds of issues students would be exploring in class.
 
Targeting current and prospective students, as well as academic colleagues at Columbia College and beyond, the feed featured posts about creativity, the artistic process, thorny issues surrounding contemporary art and media, and the importance of liberal arts education.
We also shared news items related to the books and films discussed in the course, promoted campus events, exhibited student work, profiled instructors, and shared timely tips that would be of use to students.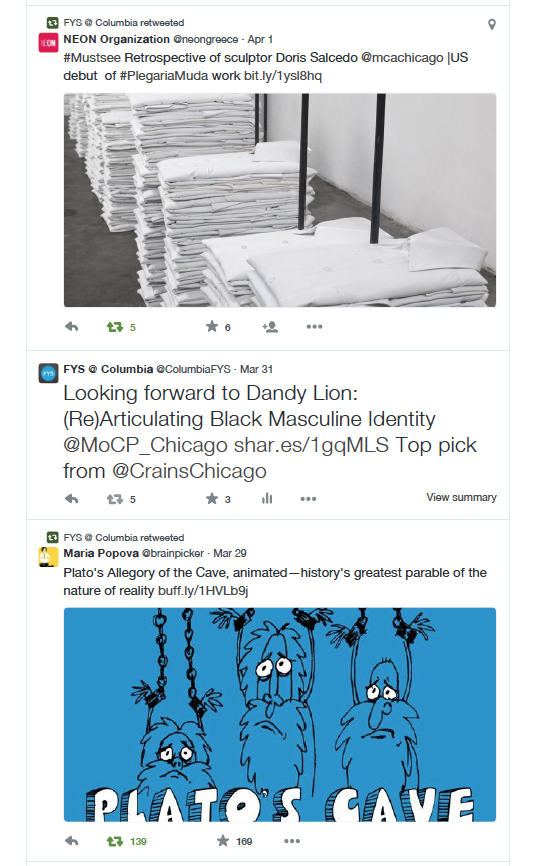 I developed the strategy, authored content, and worked with school's in-house design team to create great visuals for the feeds.
The Result
The FYS Twitter feed became one of the most active channels serving the college's 10,000 students and engaging the extended community of faculty, staff, parents, and prospectives, providing valuable content on everything from snow day closures to gallery openings, and extending the program's mission to engage young creatives in thoughtful discussion of the culture of our time.