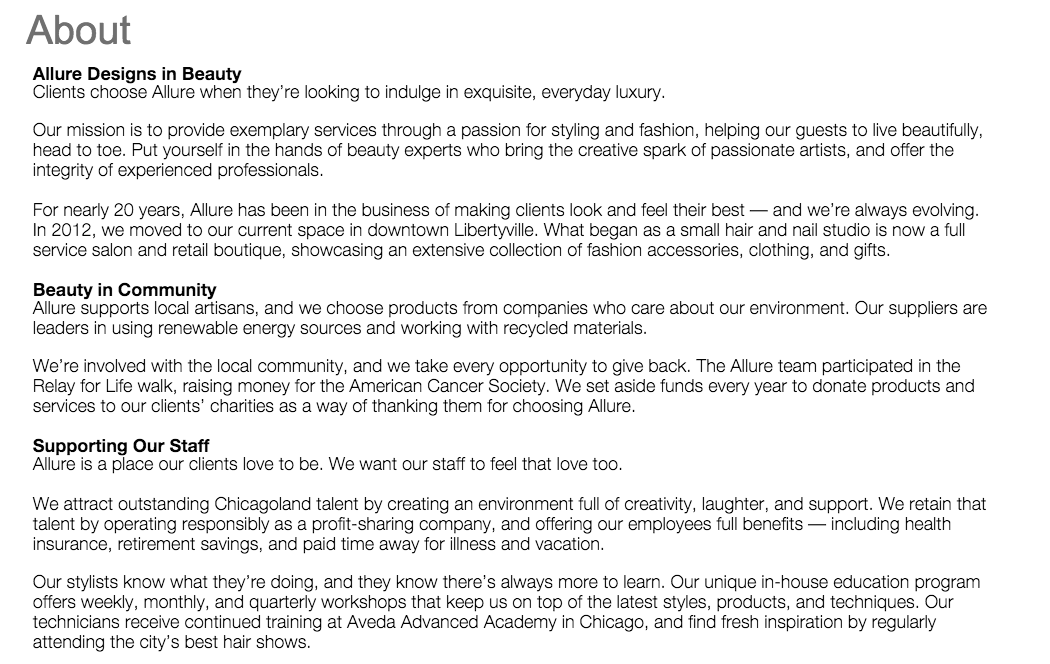 The Challenge
The Challenge: A local salon investing in a website redesign needed fresh copy to match — as well as new material to launch a blog.
The Solution
Budget restrictions made a total overhaul unlikely, so I took the existing "about us" content and made it more web friendly — simpler to read, easier to skim.
 
The owner had given questionnaires to the staff to use as bios. I streamlined that raw material, getting rid of any sprawling answers to irrelevant questions. While respecting the integrity of what everyone wrote, I reshaped their answers to fit a consistent format designed to highlight the team's professionalism while still letting each stylist's personality shine through.
I worked with existing images and a few bits of information about the salon's services and products to write a series of initial posts to launch the site's new blog. I had a great time researching hair and fashion trends to make sure I was getting the language exactly right.
The Result
After the first draft, the client wrote to say:
"I LOVE what you have done so far! You have captured the image I want to project. Great information with a playful edge!" And when the work was done: "I'm super happy and look forward to doing more work with you in the future."